About Archaic Radio
Archaic Radio is a 2 Hour Weekly Podcast
Exploring Rock n' Roll in all it's Glory
---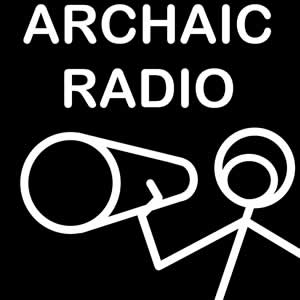 Archaic Radio sneaks into your earholes every Thursday night at 830pm Pacific bringing you the Rock n' Roll education you never asked for. Tune in for genre dives, lexicon jives and sweat shop hives every week on Archaic Radio.
How Can I Listen to Archaic Radio
Well, there's two ways:
The Show airs Thursday Nights at 8:30-10:30 PM Pacific. You can listen as it airs on our home station, KKRN 88.5 FM, on their website (KKRN.org) or right here on ArchaicRadio.com just by visiting the site at that time.
Or you can listen to the archives 24/7 here on ArchaicRadio.com or across the web at some of your favorite podcasting and social media sites.
About the Show
Like so many aging crypsters, John Moore and Chauncey Haworth didn't want to let their dwindling hold on their flailing rock n' roll careers go. So they took the path of least effort and started playing Rock n' Roll by other people on the radio every Thursday at 830pm Pacific. What's the adage? Those who can't… teach. Well, that's what the fellas do with sets and segments digging into all aspect of the rock n' roll experience. From the benign and beautiful to the malign and messed up. This is Archaic Radio.